[Visited: December 2000]
After a visit to Trinity Church, I headed to Wall Street which is literally just a stone's throw away. For the occasion, the front part of the building was clad in Christmas decoration. Quite soon, also because of the cold, I decided to go inside for a self-guided tour.
This entailed some information booths and history lessons, but the main purpose of my visit was of course the trading floor. When I entered the glass hallway through which visitors can have a look on the trading below, I had the strong sensation of having been there before... but no, that was only after having seen the images so many times on TV!.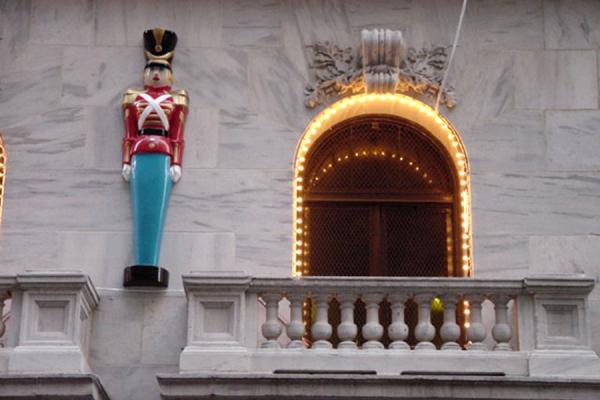 I happened to enter just 20 minutes before closing time, so I decided to stay. It was anyway quite strange to see all those busy ants of capitalism run around the floor, shouting, pointing, and leaving a chaos on the floor in the form of pieces of paper. Since close was near, I could also see some TV personalities being groomed for giving their comments on the air. Unfortunately, I was not allowed to take any pictures inside.