[Visited: May 2005]
After my visit to Uplistsikhe, I wanted to visit Atenis Sioni. I was reconfirmed in my wish by my guide in the cave town, who urged me to visit Atenis Sioni. When driving up the valley carved out of the lush green landscape by the Tana river, I once again noticed how many grapes were being cultivated in this region. Every village had grapes growing over the road, which gave the impression of a roofed road. When we arrived at the church, the driver parked the taxi under a lonely tree on the small square, and started reading his newspaper.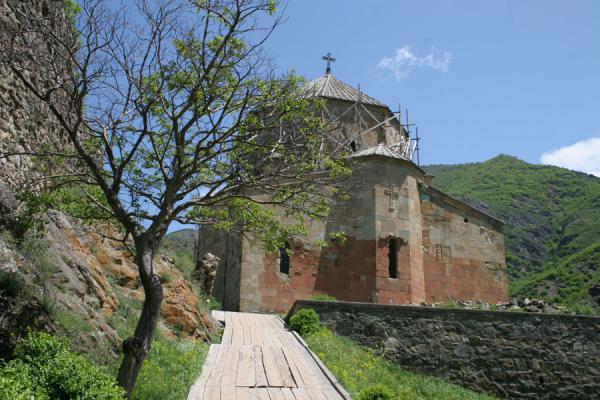 After walking through the gate, I found myself in an orchard of grapes. Again, the branches were guided over wooden sticks forming a roof through which it was still possible to look around. Through the vines, I saw the contours of Atenis Sioni in the background. I noted immediately that the church was under reconstruction, and saw workers walking up and down with building materials. I had a look at the church from the outside, discovering small stone reliefs in its walls. Like Jvari Church in Mtskheta of which it is a true copy, Atenis Sioni has a great setting. It is not built on top of a hill, but rather surrounded by green hills.
The main attraction of Atenis Sioni is, however, its interior. When I arrived near the door, it appeared to be locked, but fortunately one of the workers interrupted his lunch to open the lock and let me in. The damp darkness of this 7th century church temporarily prevented me from seeing anything after the bright sunshine outside. But when finally my eyes adjusted, they saw beautiful frescoes, worn away by the almost 10 centuries since they were painted. It was far too dark to take pictures, and that would anyway have not been allowed. Still, they were an amazing sight.