[Visited: May 1998]
One of the most interesting ways in which to get to know a country, is taking local transportation. Although it can sometimes turn into near nightmares, it always gives you a close look at daily life, ordinary people, their thoughts and joys, their concerns and their extreme adaptation to unforeseen circumstances. Last but not least, their at times incredible suffering to travel.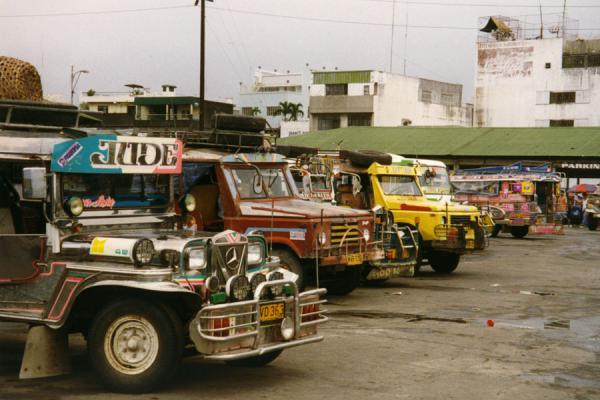 In the Philippines, the local transporation system consists of so-called jeepneys, which are actually small minivans in the back of which a lot of people can be transported. Jeepneys can take you almost anywhere a boat cannot take you, and the normally run quite frequently between towns.
The nice thing about jeepneys is that they are almost always decorated in bright colours, with fantasy illustrations, depicting anything that came to the mind of the artist to whom the jeepney was given in trust. This can be trucks, suns, strip figures, the sea, planes, trees, or anything else that can be thought of. Even if you have to wait some time at a jeepney station to wait for your next jeepney to leave, you can spend your time walking around and watching other jeepneys arrive and leave. This is exactly what we did. Be careful to return in time and not to miss your jeepney!