[Visited: June 1990]
Less known than ancient civilizations in Egypt and Mesopotamia, there was a third well-developed civilization around 4000 years ago: the Indus civilization, stretching from Kabul to Delhi, and covering most of what is now Pakistan. These contemporary cultures were linked by trade. What strikes most in the Indus civilization is the high degree of organization. This is still clearly visible in the ruins of Moenjodaro, around one-hour flight north of Karachi. The cities were all laid out in the same way, with different sectors having different functions.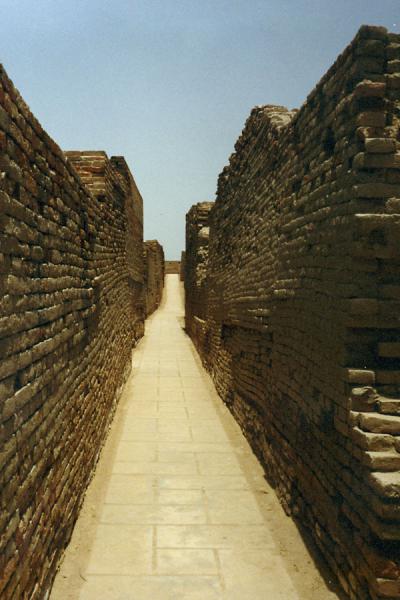 The first thing that comes to my mind when I relive my visit to Moenjodaro, is that it was very, very hot - around 45 degrees. The second thing, perhaps strengthened by the first sensation, was the extreme sense of antiquity, reinforced by the surprisingly good condition in which the (partly restored) ruins are nowadays. Walking down what used to be the rich area of the city, what struck me most was the fact that there were no windows in the walls. And of course also the advanced drainage system for which this culture has become famous.
I was impressed by my visit of Moenjodaro, with Egypt the oldest historical site I have ever seen, because it made so clear that throughout the ages, despite all inventions and advances, basically men have lived the same way for such a long time. Men always had to cope with the same problems. Stripped down from all materialism, we are no better or worse, no more or less, than those who lived here thousands of years ago.