[Visited: September 2001]
Rotterdam claims to be the biggest port in the world, and whether this claim is rightful or not, it is a city where water plays an important role, and one of the most important cargo entry points in Europe. It's strategic importance made the Germans bomb the city at the beginning of the Second World War, which is why the city has such a new and modern look. One of the examples of this modernity is the Erasmus bridge, named after one of the famous Dutch filosophers.
The nickname of the bridge is "The Swan", and although it takes some imagination to recognize a swan in the bridge, the colour is white and the bridge is graciously defining the skyline of the city. It is an asymmetrical bridge, which to me makes it more interesting than many other bridges. True to Dutch tradition, the bridge accomodates not only cars and public transport, but also a bicycle path and walkways.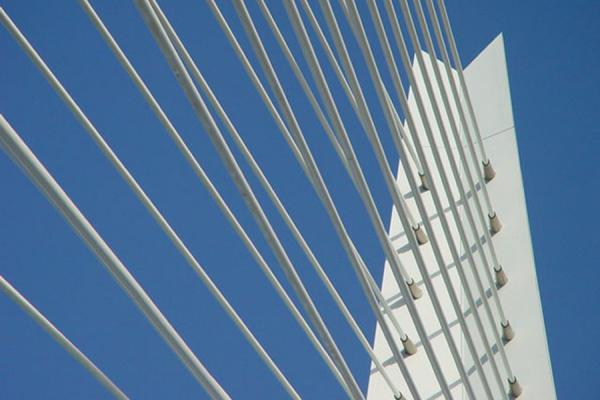 With the official opening of the bridge in 1996, Rotterdam acquired yet another monument of modernity in its city borders. From many locations around the water ways near the city, the white pylon towers over the boats and buildings, and defies the strong winds that often blow here. Meanwhile, it offers the residents of the city a faster connection between North and South. Personally, I will remember the bridge mostly because it has to be crossed twice during the Rotterdam Marathon which I ran in 2001.