[Visited: September 2003]
When, in 490 BCE, the Persians attacked the Greek mainland from their base of Euboea, they could not have thought that many centuries later, hundreds of thousands of runners each year would compete in a long-distance event called the marathon. Neither did they expect that their attack would be countered by the Greeks, whom they outnumbered threefold (although the Greeks for a long time have exaggerated these figures and claimed that the Persians had outnumbered them tenfold).
Anyway, the Athenians won that battle and lost very few of their men (just 192) thanks to an intelligent strategy, and sent a messenger to Athens to inform the leaders of the victory. According to legend, that runner, Pheidippides, collapsed just after announcing victory. The distance between Marathon and Athens is around 40 kilometer, and the current odd distance of 42.195 kilometers has been established as the official distance for a marathon after the London Olympics. The start was at Windsor Castle and the finish line was drawn in front of the Royal Box.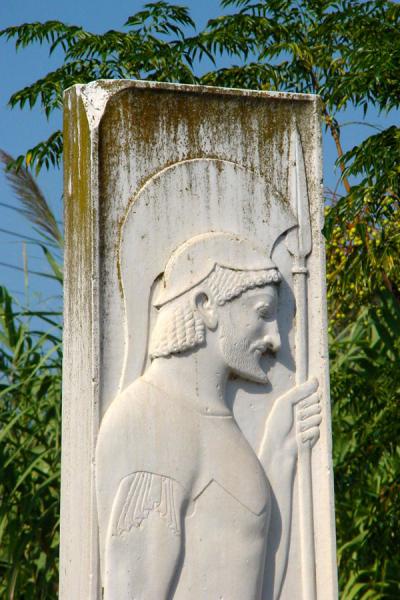 Just days before running my 6th marathon, I happened to be in Athens and decided to go to Marathon on a pilgrimage. When I arrived at the burial mound (Soros), I found out it was already closed. Having come this far, and determined about my mission, I looked around, and climbed the fence. Inside, the few things to see are the burial mound itself (in which the remains of the 192 fallen soldiers are buried), and the grave stela of the warrior Aristion (who died before the battle of Marathon). Climbing the mound, you can see the plain where the battle of Marathon was fought, surrounded by bare hills.