[Visited: November 2000]
These days travelling from one side of the planet to the other does not have to take more than a day. The chances that you don't arrive or return are very slim indeed. You can be catapulted from any culture into any other, completely different, culture in a matter of hours. Centuries ago, it took months to travel around the globe, and the risk of not arriving was very real. You would feel the change of climates, countries, cultures and peoples. So how did our forefathers explore the world before planes were invented? In ships. One such ship was the Dutch Batavia, which stranded on the coasts of Australia in the 17th century.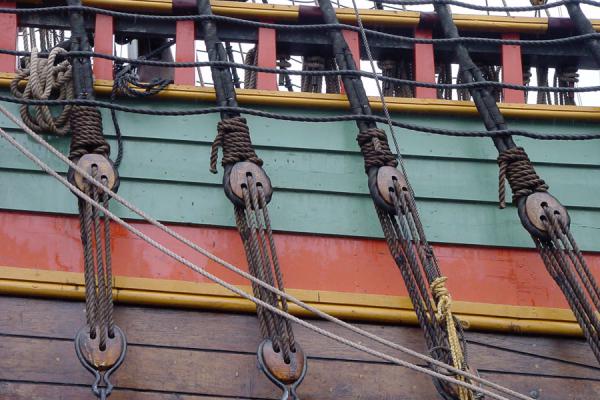 A replica of the ship has been built and it has been temporarily docked in Sydney Harbour. Since it is built as a copy of the original ship, you can actually get an accurate idea about how it must have been to sail on those boats. Actually, this idea is incredible. Just imagine: you board the ship in Northern Europe, without having a clue about what to expect on the other side of your trip. You will be stuck for months with the same people, with diseases, with lack of proper food. Little space to move around, dark decks, personal problems perhaps escalating into serious trouble. No proper bathroom, washing room, toilet. And obviously no modern entertainment such as duty free shopping, movies or a swimming pool.
The Batavia is a nice ship to see of course, and it also stimulates your imagination of "how it must have been". It is certainly strange to see such an ancient ship docked with other modern ships, with the elegant Sydney skyline as a background. An anachronism, certainly. But at the same time, you realise that had these ships never been built, had those people never had the courage to sail them to unknown destinations, our world would have looked so much more different now.